Personal Online Banking
Do more in less time with Online Banking.
Manage Your Money Online
Accessing and managing your money just became more convenient. Online banking allows you to perform most transactions you'd normally make at the branch from your mobile device or computer.
There's no need to sign up for these time-saving features*. However, if this is your first time logging in to your account, you will need to create a user name and password. From there, you're ready to enjoy all online banking has to offer.
Bill Pay
Let us introduce you to Online Bill Pay!
Bill Pay with Zelle® makes it a breeze to pay the companies that send you bills – or just about anyone else, too. It's simply the best way to manage your payments.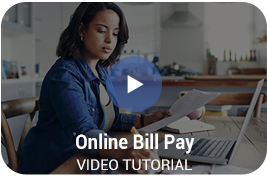 Pay Virtually Anyone. From the local bakery to a Fortune 500 Company, even your babysitter.
Send Money to Friends and Family. All you need is their email address or cell phone number.
Same Day/Next Day Payments. Payments can often be received in as little as one business day, even that same afternoon if necessary.
Group Payments into Categories. Organize your utilities, cable and phone into a folder named household.
Account to Account Transfers. Even accounts at other financial institutions. Your money is always available, regardless of where you keep it.
Receive eBills. Green, more convenient, more secure and easier to manage.
Reminders. Receive updates through email when you receive a bill, or when it's due.
Automatic Payments. Great for bills that stay the same each month, like your rent and your car loan.
Search Bill History. Search by company, date and status, the moment you need an answer, wherever you are.
Message Center. Get quick answers to questions you might have.
Completely safe. More secure than mailing paper checks.
*Terms and Conditions apply.
eStatements
eStatements from 1st Bank of Sea Isle City are a safe, secure, easy way to receive your monthly checking account statements in an electronic format. eStatements provide an exact copy of your paper statement, including your check images in an easy to use PDF format. After your initial enrollment, you will receive an e-mail every time your statement is ready to view.*
If you are a Personal Online Banking user, you will be able to access your eStatements directly from your online banking session! Just click on the Documents button and you will be taken to our secure server where you will be able to see, print and manage your eStatements account.
You may access the eStatement server at any time - just log in to Personal Online Banking and click on the Documents tab from any account screen. eStatements are archived for 18-months, so they are available for you whenever you need them! You may also print your statement or save a copy to your computer, a CD-Rom, USB drive or other storage device.
Not an eStatements subscriber? Enroll today! Just click on the Profile link at the top, then Manage eStatements in Internet Banking! After accepting the terms and conditions you will be presented with a list of your eStatements eligible accounts. Just check the "Yes" button and you will be instantly enrolled!
Not enrolled in Online Banking?
*Enrollment in eStatements will discontinue your paper statements. To begin receiving paper statements again, you will need to submit a request in writing at any branch location.
Notifi Real-time Alerts
When it happens, you know.
Talk about a feeling of security.
Real-Time Alerts from 1st Bank of Sea Isle City let you know the moment something important happens in your account by instantly sending a message via text*, email, to your Online Banking message center, or by push notifications to your smartphone using our MobileMoney app.
With Real-Time Alerts you'll always know exactly what's happening with your money, and you can watch for suspicious activity. It's a free service for our customers.
*Message and data rates may apply
Choose from dozens of Real-Time Alerts
Monitor your account activity such as:
A purchase using your debit card was just processed.
You instantly know.
An ATM withdrawal was just made.
You instantly know.
A check clears that exceeds the amount you set.
You instantly know.
Delivered the way you want.
Messages are sent instantly using any of the delivery channels you choose.
Text Messages / Push Notifications
One of the easiest ways to receive Real-Time Alerts is through text messages* or push notifications on your smartphone.
Email
Receive email messages about your account activity.
Online Banking Message Center
View your Alerts every time you log on to Online Banking.
*Message and data rates may apply
Set up your Real-Time Alerts
| | |
| --- | --- |
| | Log on to Online Banking and select Alerts |
| | |
| --- | --- |
| | Click each category in Alert Options to view the list of available alerts |
| | |
| --- | --- |
| | Select the Alerts you want to receive for each account. Then check how you would like to receive them, and Save |
You'll now receive a message the moment any of your alerts are triggered. It's that simple. With Real-Time Alerts you'll always know exactly what's happening with your money, and you can watch for suspicious activity.
Mobile Money
With MobileMoney you can manage your accounts from anywhere you happen to be, 24 hours a day, 7 days a week.
Our MobileMoney App offers:
Instant Balances
Fingerprint Authentication
Transfers
Bill Pay
Integrated Card Management
Mobile Deposit
and more!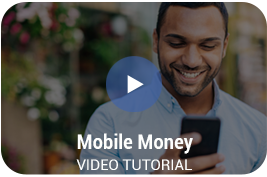 Download our MobileMoney app from
App store is a service mark of Apple Inc. Android, Google Play, and the Google Play logo are trademarks of Google Inc. Messaging and Data charges may apply. Check with your mobile phone carrier for details. Apple and the Apple logo are trademarks of Apple Inc, registered in the U.S. and other countries.
Mobile Deposit
MobileDeposit is now available to all of our personal customers! Now, when you have that check to deposit*, the bank is as close as your pocket!
To get started, you will need to be enrolled in Online Banking and have our Mobile Money app downloaded to your phone or tablet. You can enroll here or you can enroll by downloading our Mobile Money app from your device's app store and clicking "Enroll".
Use of the MobileDeposit Service is subject to the User Agreement and Disclosure.
When using this service, please follow the Endorsement Procedures outlined below:
Endorsements and Procedures
You agree to restrictively endorse any item transmitted through the Services as "For Mobile Deposit to 1st Bank of Sea Isle City Acct# XXXX" where "XXXX" is the last 4 digits of your account number, and affix your signature or other endorsement as instructed by 1st Bank of Sea Isle City, as illustrated below. Failure to endorse your item in the prescribed manner will result in rejection of your deposit. You agree to follow any and all other procedures and instructions for use of the Services as 1st Bank of Sea Isle City may establish from time to time.
*Deposit Limits. We reserve the right to impose limits on the amount(s) and/or number of deposits that you transmit using the Services and to modify such limits from time to time, and on the types of items that can be deposited. Your deposit limit and the daily limit will be determined at the time of deposit. Such limits may vary and are subject to change at the Bank's discretion and without prior notification. If you attempt to initiate a deposit in excess of these limits, we may reject your deposit. If we permit you to make a deposit in excess of these limits, such deposit will still be subject to the terms of the Mobile Deposit Agreement, and we will not be obligated to allow such a deposit at other times.
Telephone Banking
With 1st Bank of Sea Isle City's FREE Bank-by-Phone service, you can manage your accounts 24 hours a day, 7 days a week. Just dial 1-866-EST-1888 (866-378-1888) to gain account information any time you want from home, work or anywhere there is a telephone!
Access Checking, Savings, Certificates and Loan Accounts
Review account history
Transfer between 1st Bank accounts – including making loan payments
Place stop payments
If you have any questions about our Bank-by-Phone service please contact your local branch office.
Have Questions?
Contact us or visit our product tutorials.